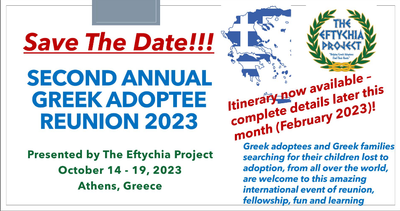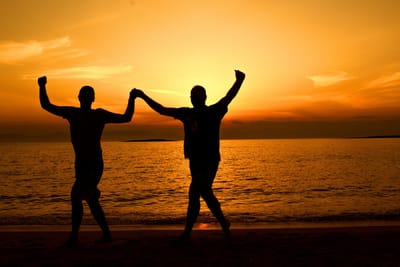 The First Annual Greek Adoptee Reunion, held in August 2022 in America, was an amazing success. Now, because there are Greek adoptees and their biological Greek families scattered across the world, the Second Annual Greek Adoptee Reunion 2023 will be held in our homeland of Greece, not only giving Greek adoptees from America the chance to visit their home country, but also giving those Greek adoptees and families in Greece, all of Europe and elsewhere the opportunity to attend and connect with each other. Our First Annual Greek Adoptee Reunion was a success. Read about it in the National Herald.
The National Herald
We are pleased to announce our Second Annual Greek Adoptee Reunion. ***SAVE THE DATE!!!***DON'T MISS THE Second Annual Greek Adoptee Reunion 2023
***OCTOBER 14 - 19, 2023***
ALL GREEK ADOPTEES AND GREEK FAMILIES THE WORLD OVER ARE WELCOME
***GROUP TRIP ITINERARY NOW AVAILABLE***We invite ALL Greek-born adoptees and Greek families to join us for the Second Annual Greek Adoptee Reunion in our beautiful homeland of Greece, October 14 - 19, 2023. Complete details, including options and cost, will be available by the end of February. Meet your fellow Greek adoptees and Greek families searching for their lost children. Dynamic speakers and presentations, fun group activities, Greek adoptee and family stories, Greek coffee hours and cocktail parties, adoptee author book-signing event, Greek Taverna Night with Greek food, music and dancing, door prizes and more! PLEASE READ BELOW FOR IMPORTANT INFORMATION AND ITINERARY:

1. There will be several options for the Reunion, but in every case, those attendees from outside of Greece will arrange their own transportation to Greece, as it is difficult to coordinate the flights of all who will attend from outside of Greece. Many adoptees are planning to either come the week before the Reunion or stay for a week after in order to see more of Greece and visit their villages.

2. There are two options for the Reunion:
(a) The group trip, which was discussed during the First Annual Greek Adoptee Reunion, and was designed for Greek adoptees (and their family members) who are coming to the Reunion from outside of Greece, not only for those from America, but also for those from all over Europe and the world who would like to join us. We would love for our fellow adoptees (and members of their families) from the Netherlands, Sweden, France, the UK, Australia, Canada, Cyprus and beyond to join us on this group trip. The group trip will include Reunion registration, bus transportation in Greece, Opening Ceremonies and Welcome Reception in Athens (all attendees are invited to attend, whether or not they will be on the group trip), two hotel nights in Athens, admission to the Acropolis and Acropolis Museum, admission to Ancient Corinth, three hotel nights in Nafpaktos, 2 lunches on the Reunion conference days in Nafpaktos, the Greek Taverna Night Dinner, and admission to Ancient Delphi. The trip will begin and end in Athens (see itinerary below) and will be a time for us to travel together, to bond, to love and support each other as we visit Greece and the orphanages from which we came. Many will be seeing Greece and their orphanages for the first time – it will be emotional and, at times, overwhelming. The love and support of our fellow adoptees is crucial.
(b) For those Greek adoptees and Greek families who live in Greece, as well as those who have traveled Greece extensively and prefer to meet us for the 2 days of the Reunion conference/group activities, they may opt for Reunion registration only. In this case, it will include the opening ceremonies and the welcome reception in Athens and the 2 days of the conference in Nafpaktos (including lunch on both days and the Greek Taverna farewell dinner).

3. We will have complete details, including the cost of both options, by the end of February.
(a) We are dedicated to keeping the group trip cost as reasonable and inexpensive as possible and will offer an installment option so it does not have to be paid all at once (for example, a deposit and 3 additional payments, etc.)
(b) Those who choose the Reunion registration only option will be responsible for their own accommodations and transportation in Nafpaktos, but there are a number of hotel, air bnb and booking.com options.

4. All participants, regardless of option, will receive a conference syllabus and a goody bag.

5. We are in the process of finalizing our speakers and presenters and will have announcements soon.

Group Trip Itinerary (Subject to Change)
October 14 - 19, 2023
Athens/Corinth/Patras/Nafpaktos/Delphi/Arahova

•Saturday, October 14, 2023 – Day 1
12 noon until 7:00 pm – Pick up credentials and goody bags at hotel in Athens
8:00 pm – Opening Ceremonies and Welcome Reception - included

•Sunday, October 15, 2023 – Day 2
Morning – Visit Orphanages: Athens Municipal Nursery and
Mitera
Lunch on your own in Athens area (Place TBA)
Afternoon – Acropolis (we want a photo of everyone in front
of the actual Parthenon this year!) and Acropolis museum –
admission included
Early evening – Explore Plaka/Monastiraki on your own, dinner
on your own

•Monday, October 16, 2023 – Day 3
Morning – Depart Athens, visit Corinth Canal and Ancient
Corinth – admission included
Lunch on your own at Ancient Corinth
Afternoon – Arrive Patras, visit Patras Orphanage and other
Patras sites
Early evening – Cross Rio-Antirrio Bridge to Nafpaktos
Check-in to hotel
Dinner on own in Nafpaktos (multiple tavernas, restaurants,
coffee shops on the sea & at port)

•Tuesday, October 17, 2023 – Day 4 (Day 1 of Conference portion)
2-day Reunion Conference (conference registration included)
at the Holy Monastery of the Transfiguration of the Savior in
their beautiful conference center with breathtaking views of
the Gulf of Corinth. 9:30 am until 5:00 pm each day.
Lunch included, will be catered to the Monastery
Dinner on own in Nafpaktos
Evening cocktail party (place TBA)

•Wednesday, October 18, 2023 – Day 5(Day 2 of Conference portion)
Lunch included, will be catered to the Monastery
Greek Taverna Night Farewell Dinner in a real Greek Taverna
with Greek food, music & dancing. Door prizes, photo booth
and other fun activities - included

•Thursday, October 19, 2023 – Day 6
Morning – Depart Nafpaktos for Ancient Delphi (admission
included) and Arahova
Afternoon/Early Evening arrive back in Athens
End of trip – Accommodations/plans are on your own for 19
October & remainder of stay in Greece

Like and follow this page, The Eftychia Project page or access our website www.theeftychiaproject.org for the latest information and updates.

We are waiting for you in beautiful Greece!