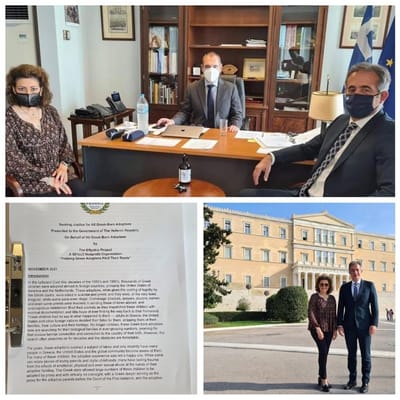 The Eftychia Project is at Greek Ministry of Foreign Affairs | Η Ελλάδα στον Κόσμο.
***THE EFTYCHIA PROJECT MEETS WITH THE MINISTRY OF FOREIGN AFFAIRS IN ATHENS IN THE PUSH FOR GREEK-BORN ADOPTEE BIRTH AND IDENTITY RIGHTS AND GREEK CITIZENSHIP***
The Eftychia Project (TEP), along with MP Stathis K. Konstantinidis of Kozani, met on Monday afternoon, November 8, 2021, with the Deputy Minister of Foreign Affairs for Diaspora Greeks, Andreas Katsaniotis, to discuss the fight of Greek-born adoptees for their birth and identity rights, including their right to Greek citizenship. TEP presented a bound formal statement that included an introduction to the Greek adoptions, the four main issues for Greek-born adoptees (transparency, open records, Greek citizenship and a collaborative DNA database) and proposed solutions for each of these issues. Also included in the statement were emotional letters from multiple Greek adoptees in which they expressed their feelings about their Greek identity and why Greek citizenship was so important to them.
The hour-long meeting covered all four issues, with particular emphasis on Greek citizenship and that the proof of our citizenship is contained in the Greek passports with which we left Greece for our new adoptive homes. Political and legislative solutions to the citizenship issue were also discussed. The Deputy Minister has pledged his support and now the work begins to determine how the Greek government can bring our hopes and dreams to fruition.
This is only the beginning of a collaboration with the Greek government for the justice that Greek-born adoptees have long-deserved but have been so long denied. As so aptly put by Mr. Margaritis, Director of the Diplomatic Cabinet, also present at the meeting, "You have suffered long enough". Yes, we have, Mr. Margaritis --- yes, we have. On behalf of Greek-born adoptees everywhere, our thanks to the Ministry of Foreign Affairs for their invaluable help and support.
***If you are a Greek-born adoptee and would like to be actively involved in our adoptee-led initiative with the Greek government for our birth and identity rights, please send us an email at theeftychiaproject@gmail.com***